Abbreviated reviews are just shorter, free-form versions of our regular reviews ~ because we like to keep things loose here at Books Aplenty.
Premise: The subtitle of Larklight should tell you everything you need to know:
"A Rousing Tale of Dauntless Pluck in the Farthest Reaches of Space"
But, if that's not sufficient for you, this summary should work:
Arthur (Art) Mumby and his irritating sister Myrtle live with their father in a huge and rambling house called Larklight that happens to be traveling through outer space. Living in an alternate 19th century, Britain has colonized the solar system and their house is under attack by elephant-size-space-spiders. Before long Art and Myrtle are off on an adventure to the farthest reaches of space, where they will do battle with evil forces in order to save each other — and the universe. (from Scholastic, slightly edited by me)
Victoria Space Pirates!
Huzzah!
I don't think of myself as a fan of Steampunk, but Phillip Reeve has crafted such a fun, outrageous world that I think almost anybody would love this book. In Reeve's outer space, the black is actually aether, a substance people can swim about in and even breathe a bit. There are creatures that swim about in the aether, you can catch some for dinner, and native sentient inhabitants of Mars, Venus, and Jupiter's moons.
While this imagined version of physics took some getting used to, and quite a bit of suspension of belief, the romping tone of
Larklight
made the alternative science really fun. The action was pretty nonstop, and the villains were sufficiently creepy and tended toward ridiculous monologues.
Reeve's writing really shines in
Larklight
. Just when a moment is feeling dull, he throws in some subtle humor. For example, I laughed out loud when he rattled off the names of Mars's mountains: Mount Ghastly, Mount Horrible, Mount Vile, and Mount Absolutely Beasty.
And have I mentioned the illustrations!? David Wyatt's line drawings give this book the perfect extra ambiance. I found them really helpful for picturing Reeve's totally unique space creatures, planetary settings, and space-worthy vessels. Here are 3 images from the book:
A British Navy space vessel
Myrtle shoves the Queen!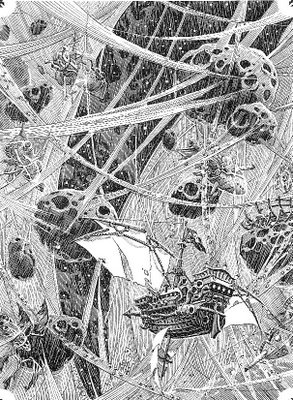 Inside the rings of Saturn
I absolutely loved this book and nearly gave it 5 stars, except that some of the characters are frustratingly flat. Particularly the primary protagonist, Art. I loved the voice of his sister Myrtle, but Art told the story as a storyteller so we just didn't get to know what makes him tick. Hopefully, his character will be more developed in Book 2.
Reeve uses invented spellings and footnotes throughout
Larklight
, which lends the book to an older audience than you might otherwise think, say ages 12+.