Premise:
Diviner and object-reader, Evie O'Neill, is now a radio-superstar and media darling. As she and her friends struggle to move on with their lives after successfully stopping The Pentacle Killer, another mystery terrifies the city. People have gone missing. Others have fallen asleep, won't wake up, and eventually die. The Diviners must work together to solve the mystery from within the dream world.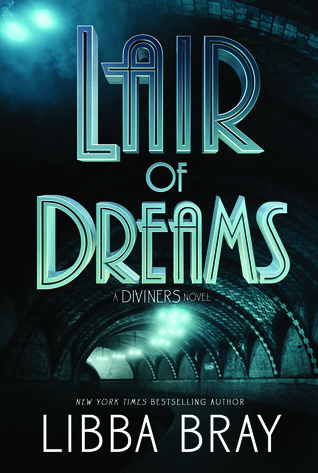 Title:
Lair of Dreams
Author:
Libba Bray
Length:
624 pages
Genre:
Fantasy, Horror
Series or Stand Alone:
Book 2 of
The Diviners
trilogy
Content appropriate for:
Grades 9-12
Format:
eARC provided by the publisher via NetGalley
Three adjectives that describe this book: dark, gritty, complex
I gave
book one
in this trilogy,
The Diviners
, an awesome 4.5 stars. I loved the way Libba Bray wove a complex, chilling tale while setting it solidly in 1920s New York City. The dialect, dancing, and speakeasies were a stellar backdrop. What kept me so captivated was the frequent chapters that followed particular murder victims. The danger and horror of it was so palpable, but Libba Bray never made it campy.
Lair of Dreams
was almost as good as the first one. The premise and mystery were really creepy. I loved the idea of the dream world, and traveling there with Henry was really captivating. But the chilling murder scenes were less frequent, and somehow less scary. Sadly, the opening third dragged for me.
This one was a bit more character-driven than The Diviners. Each character got a lot more depth, especially Henry and Sam. I was surprised to find myself really drawn to both of those characters. Well done, Libba Bray! I found myself equally turned off by Evie, and I'm pretty sure Libba Bray did that on purpose. She did not handle fame well, at all! She got so self-centered and her drunkenness was irritating.
A massive conspiracy-theory, cover-up, paranormal show-down is set for Book 3 and I'm ready! I can't wait to see how she wraps it up and I'm holding out hope that Evie gets to redeem herself.